William Whitehead was born in Berwick-upon-Tweed, on the border with Scotland, in 1847.  The Whitehead's were a Scottish family.  His father, Andrew, who was a mason and at one time proprietor of the Brown Bear Inn in Berwick, had been born in the city of Kelso.  William was the only son and he had three sisters: Hanna, Barbara and Mary.  William moved from Berwick to West Hartlepool in the early 1860's to apprentice as a grocer and ships chandler, and when he was 26 years old he set up his own shop at number 58 Church Street in the center of town (pictured below).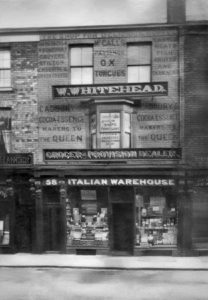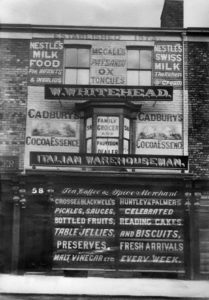 Not long after that he married Mary Tate and had four boys: William (b. 1875), Albion (b. 1877), Andrew (b. 1878) and Charles (b. 1882).  Then one year after Charles was born, Mary gave birth to a stillborn daughter, and sadly died seven months later due to complications from the birth.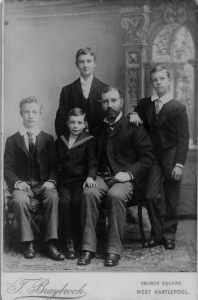 William's sister Barbara was widowed and without any children, so she stayed in West Hartlepool and helped to raise the boys after their mother Mary's death.  William's sister Mary, also unmarried, lived with their parents in Berwick.  Hanna, the third sister had died in 1877.
By tradition, William's eldest son went into the family business and learned to be a Grocer.  Also by tradition, the second son Albion – my great-grandfather – was apprenticed to be a sailor and his 4-year contract was finishing at the end of 1898.  The third son, Andrew, was apprenticed to be a Chemist in 1898.
When William left on his journey in 1898 he planned to meet up with Albion, apprenticed aboard the 4-masted sailing barque the Andorinha.  He anticipated overlapping with him in India, and possibly once more in America.  In the event, they managed to see each other in Calcutta and again in New York, sailing home to England together in November.  Seven years later Albion, now married, moved permanently to America with his family.
William remained in West Hartlepool for the rest of his life and even ran unsuccessfully for Mayor in 1910.  He was an active member of society, a regular churchgoer and wrote the occasional nostalgia article for the local newspaper.  He died in 1930, aged 83.